PHOTOS OF THE 6TH YNHM ARE NOW ONLINE
You can find all of them here !
12th – 16th March 2019
Muséum national d'Histoire naturelle (MNHN) Paris, France
The YNHM awards
Earth and Planetary sciences
Best oral presentation: Benjamin Wasilewski for "Geochronology and crustal evolution of the Eoarchean Saglek-Hebron Complex (Northern Labrador)"
Best poster presentation: Margot Neyretfor "Are tree plantations forests? Challenging the positive impact of "afforestation" on soil conservation"
Systematics, Evolutions and Comparative anatomy
Best oral presentation: Paul Zaharias for "An exon-captured based phylogeny of the Turridae (Gastropoda, Conoidea)"
Best poster presentation: Michał Gorczak for "Surprising phylogenetic position of elusive ant parasite - Myrmicinosporidium durum"
Biodiversity dynamics and Conservation
Best oral presentation: Irene Castañeda for "Trophic patterns and home range size of two generalist urban carnivores: a review"
Best poster presentation: Elise Say-Sallaz for "Anti-predator behavioural responses of zebra (Equus quagga) to two predators with contrasted hunting modes"
Evolutionary Ecology
Best oral presentation: Elisa Gomes for "Does Artificial Light At Night affect energetic reserves and the trade-off between current and future reproduction in a parasitoid wasp?"
Best poster presentation: Jennifer Morinay for "When birds listen to heterospecific songs: performance-related song features from heterospecifics are social information used for breeding site selection in collared flycatchers"
Humanities and Natural sciences
Best oral presentation: Delphine Vittese for "Focus on the anthropic percussion stigmata to identify original Neandertal strategies of marrow extraction"
Best poster presentation: Thibaud France for "Thought experiment about human practice sustainability using viability theory"
Methods in Natural sciences
Best oral presentation: Romain Pintore for "The potential and limits of Thin-Plate Splines retrodeformation on asymmetrical objects: Simulation of taphonomical deformations on a modern horse and application on a fossil sample of sauropodomorph dinosaurs bones"
Best poster presentation: Pauline Lefebvre for "Archeology and Biodiversity research databases : how are the user communities articulated ?"
Photographic contest awards
Jury Prize: Vipera aspis - Marta Miñarro (photo 5 in the gallery)
Public Prize: Color rise - Marius Bredon (photo 9 in the gallery)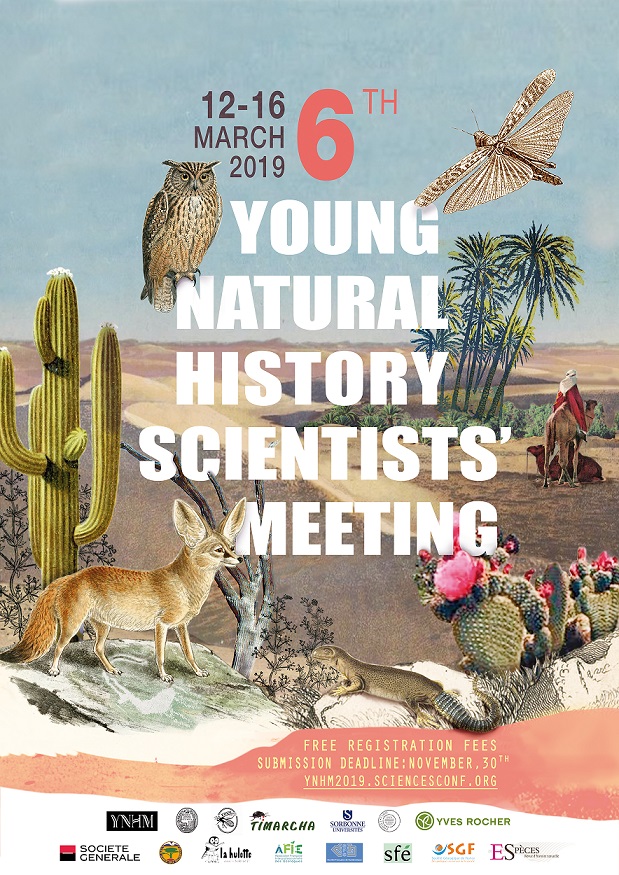 Who can submit a communication ?
This totally free conference is dedicated to young researchers in natural history (non permanent researchers such as PhD students, Postdocs or Master students) who are the only ones allowed to present communications, but senior researchers are welcome to attend the conference. The meeting will be held entirely in English.

You can participate in the meeting without making a presentation. Please do not forget to register, it will allow us to estimate the number of participants.
The creation of sciencesconf account is NOT a registration! You have to create an account on the website and THEN register and submit your abstract.
For any question or more information, contact us at: ynhm2019@gmail.com

And follow us on Twitter @YNHM_2019 and on our Facebook page!
#YNHM2019
We warmly invite your contributions in English (either oral OR poster communications) in six Natural History fields :
Biodiversity Dynamics and Conservation
Humanities and Natural Sciences
Systematics, Evolution and Comparative Anatomy
Earth and Planetary Sciences
Evolutionaty Ecology
Methods in Natural Sciences
A keynote speaker will open each of these multidisciplinary sessions with a lecture on a relevant topic.
Best oral and poster presentation of each session will be rewarded with gifts offered by our sponsors.
Check more information on this website !